Tasting Room Sampler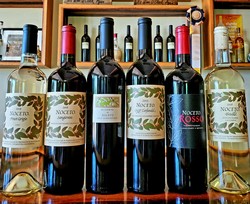 These six wines represent the backbone of our tasting menu. They show off some of our most popular and compelling wines. There is something in this sampler pack for every type of wine drinker and for almost every occasion. It's probably the best way to bring the tasting room to your living room.
A $157 value -- Yours for only $137!
This sampler pack includes one bottle of each of the following wines:
2019 Pinot Grigio
2016 Sangiovese Originale - 90pts
2016 Riserva Sangiovese - 94pts
2015 OGP Zinfandel - 94pts
NV Rosso Tuscan Red Blend - 90pts
2018 Frivolo "21st Anniversary Edition"