Chianti Starter Pack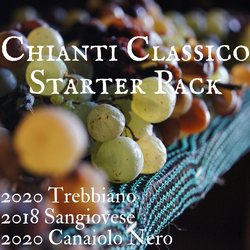 The original "recipe" for a stellar Chianti dates back to the 19th-century. The base of the wine needed to be Sangiovese (of course). Canaiolo was added for "softness" and Trebbiano for "freshness."
Each pack contains one bottle of each of the following wines:
2020 Trebbiano - quite possibly the most-planted grape you've never tasted. Notes of tangerines, dried apricots, white peaches, and fresh herbs mingle with a lovely richness from sur lie aging. Estate-grown.
2020 Canaiolo Nero - the trusty, steady side-kick to Sangiovese. Always happy to play the supporting actor, Canaiolo steps into the spotlight for the first time at Noceto. A lighter red with a pleasant tang and plenty of bright cherry, red plum, and floral notes. Estate-grown and very limited.
2018 Sangiovese - by a clear mile, this is the most popular wine we make going on for 30 years. Quite possibly the best value in the Sierra Foothills - perhaps even further afield - this quintessential Sangiovese delivers abundant cherry, herb, and savory notes vintage after vintage.
One can almost see the straw-wrapped bottle on a checkered tablecloth, a shared plate of spaghetti and meatballs, and hear the sounds of a nearby accordion. It is rare to get to taste Sangiovese's quintessential blending-partners on their own. This is a unique opportunity! Grab your pack before we run out of Canaiolo!
Product Reviews