NV DD's Big Jug Red SHIP, 6x1L
Includes Shipping!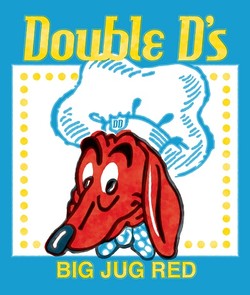 An easy-drinking red wine blend for your everyday table. This delicious blend consists of Zinfandel, Cabernet Sauvignon, Carignane, Pinot Noir, Grenache, Barbera, and more! Take a sip. You'll hound us for more!
This item ships separately as a case of six 1L bottles. Available only to states where we can ship.
Club Members: On the Specials page, select the Double D's CLUB case. Be sure to log in first -- then you'll see your special price!
Product Reviews
Katherine Lohnes
(Apr 25, 2020 at 4:26 PM)
This is our absolute favorite table wine! It pairs great with a variety of American dishes, we enjoyed it with steak, pizza, bbq etc. We bought 3 cases of the last harvest and really enjoyed it for ourselves as much as sharing with others.