February 27, 2017 | Staff Interviews | Ginger Budrick
An Interview with Winemaker Rusty Folena
If you missed last month's interview, let me fill you in. My name is Ginger Budrick and, over the course of several months, I am interviewing various staff members at Vino Noceto, so you can get to know the folks behind your favorite wines. Last month I interviewed Lindy Gullett. If you didn't get a chance to read it, you can find her interview under the News tab on the Vino Noceto website.
This month, I had the opportunity to interview Rusty Folena, Vino Noceto's winemaker. I met Rusty and his dog, Heidi, at the winery, on a beautiful Tuesday after a storm. We sat in his office, chatting about his life and how he got to be where he is today. I must say, I felt intimidated meeting a winemaker, but Rusty was very down-to-earth and humble. His energy was instantly welcoming and all the nervousness I had about meeting him immediately disappeared when I sat down. I hope you enjoy getting to know him.
Rusty Folena is an El Dorado County native who moved to Amador County in 1980 when he was a freshman in high school. He graduated from Amador High School in 1984. Now, Rusty lives in Plymouth with his high-school-sweetheart-turned-wife, Beverly, and their son, Colton.
In 1983, when Rusty was a junior in high school, he got his first winery job, at Santino Wines, working for Scott Harvey. When I asked him what he did there his answer was, "Anything!" Rusty went on to explain, "My first introduction to the wine business was through my friend, Sheldon Potter, at Potter/Cowan vineyards. We went to high school together and his dad used to put us to work in his vineyard, and I ended up delivering grapes to wineries, including Santino. That's how I got to know Scott."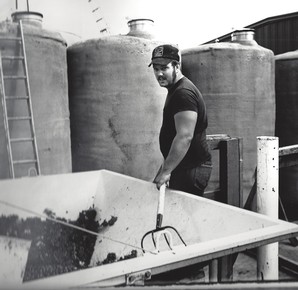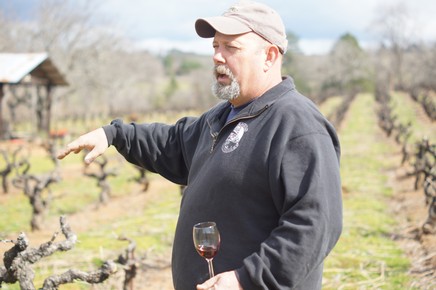 You may be wondering how a high school kid who worked in the vineyard on weekends got to be the winemaker at one of the most prominent wineries in Amador? The answer is — through old-fashioned hard work and dedication. I asked Rusty what his role was when he first started at Santino and his answer was, "Grunt. I was a general winery worker. I did anything from mechanics to wine work to anything they asked me to do."
Rusty's hard work and do-anything attitude paid off. He ended up working at Santino for 15 years and eventually became the cellar foreman. "That's when it really turned into a career," says Rusty. He told me that every time he would try to leave the wine business to pursue another career path, the job would get a little bit better.
"I used to do vineyard work for Scott, and with that I learned a lot about vineyards. And through Don Potter, too. Pruning, planting, taking care of the vines … a lot of those teachings go directly into winemaking. Scott was a great teacher. He'd show you anything; he didn't keep anything hidden," says Rusty.
Rusty went on to say, "I'm still learning. Not a day goes by that you don't learn something. And, once you think you have it mastered, it will come up and bite you, big time. If you think you know it all and you've been there/done that, Mother Nature has a way of throwing you a curve ball. And it really humbles you."
Now, I was pretty taken aback by the above statement coming out of Rusty's mouth. This is a man who has made some pretty incredible wines. I've tasted them. You've probably tasted them. It would've been easy for him to say he was an expert and take all the credit for the delicious wines he's been turning out all these years, but he didn't. Instead, he was sitting there telling me that Mother Nature and learning had played a big role in everything he'd made over the years. And I found that to be quite refreshing, inspiring even.
In addition to all the hands-on learning in the wine business over the years, Rusty has taken courses at UC Davis and worked as a dirt contractor and a sideline worker for a plumbing/sheet metal/heat and air company. "To be valuable in a small county like this, the more you can do or at least be able to say 'I know a guy you can call for this,' you make yourself more valuable for the people you work for," says Rusty.
In 1999, Rusty left Santino/Renwood winery and, later that year, started working at Vino Noceto. "I'm lucky that I could come out of high school and find a job within the county that I like living in. I didn't have to go abroad, didn't have to go anywhere, sometimes it does work like that. I'm lucky. My job turned into a career and my career turned into what we're doing here now."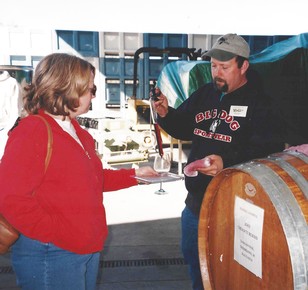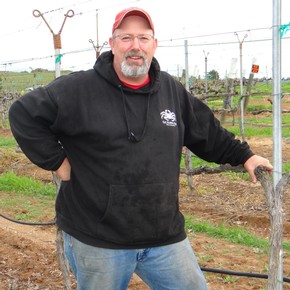 I asked Rusty what he thought about the Amador wine region and he said, "When I started, there were eight wineries in the county. Now, there are over 40 wineries. A lot of the same players are still in play and I think it's an emerging region. At one point in time, it was called 'Amateur County.' We were kind of forgotten up here for the longest time. We have some very good wineries, lots of different wine styles, and lots of different personalities up here. I think this is a quiet little area that is growing pretty quick. As people and wineries identify themselves as to what style they're doing, it's going to get better and better. Jeff Runquist is very distinctive. Bill Easton is very distinctive, and we're the only ones doing Italian wine. I think as these younger wineries figure out their plan, there's only good to come for this area."
When I asked Rusty what it was like working for Jim and Suzy Gullett, he told me that he loved it and thought they were very down-to-earth people. "What made it easy about Jim and Suzy is they had a definite plan in place. They knew the direction they wanted to go in and we just fit. That's the direction I came from, with the European-style winemaking techniques. That's how I was trained. It's a well-suited match," says Rusty.
Of course, I had to ask Rusty what kind of wines he likes to drink. His response was, "Call me old-fashioned, but I like aged wines. I like Italian wines and I like older French wines."
When I asked Rusty if he had a favorite of the wines he makes, he said, "That's a tough one; everybody asks me that. I like every wine I make. If you're gonna pin me down, the one thing I'm most proud of is our Originale. To have that wine consistent all these years is a pretty big thing to do."
Before Rusty and I parted ways, he had one last thing to say and that was that the most important part of winemaking is done out in the vineyard, long before the grapes are made into wine. "Most of my work is done out in the vineyard. If we don't grow it right, there's no way we can make good wine. Our year starts in March, when we prune for the first time, and then our pruning decisions lead into harvest decisions, which lead into wine-making decisions," says Rusty.
Before I left the winery, Rusty gave me a bottle of wine to pair with the dinner I was cooking that night and allowed me to take a picture of him in front of the grape vines. I thoroughly enjoyed getting to know Rusty and hearing him talk about the relationship between his wines and the Earth. I hope you enjoyed this interview, and I look forward to telling you more about the people of Vino Noceto.
Comments
Jan

@ Feb 28, 2017 at 11:18 AM

Yay Rusty and Noceto!! Love you guys and all your wines! Just keep them coming!

Commenting has been turned off.