Mediterranean Madness
| | |
| --- | --- |
| Date: | Sat, Aug 27, 2022 - Sun, Aug 28, 2022 |
| Time | 11:00 AM to 4:00 PM |
| Venue: | Vino Noceto |
| Contact: | Kim | Vino Noceto |
| Phone: | 2092456557 |
| Email: | kdagostini@noceto.com |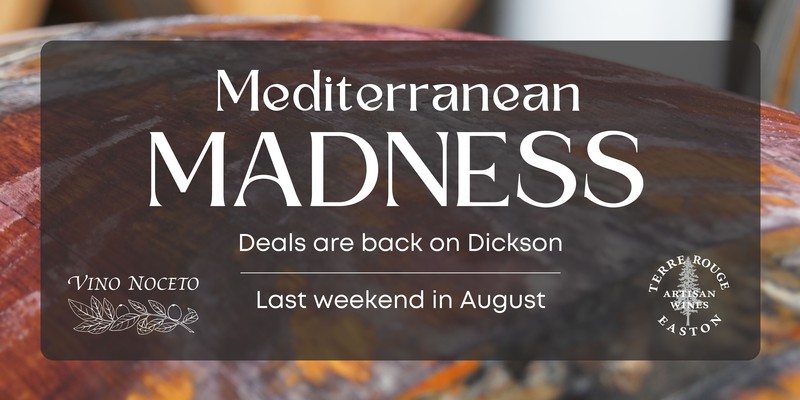 Saturday, August 27th & Sunday, August 28th | Vino Noceto & Terre Rouge
Don't miss out on the 18th annual Mediterranean Madness sale at Vino Noceto & Terre Rouge. Noceto is bringing the heat with our Mystery cases, discounts on Double D's, and our slushy machine will be going! Mystery Cases sell out fast, so start your day at Vino Noceto, grab a slushy for the patio, and hangout with your Sangiovese Specialists. Be sure to check out our neighbors, Terre Rouge for their last sale of the year!
Food | Dinner Station Food Truck
Walk-ins are always welcome, but reservations are required for parties larger than 7 people. Call the Tasting Room 209.245.6557 or email kd'agostini@noceto.com.