2020 Canaiolo Nero
1st vintage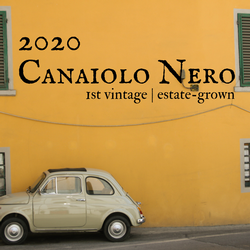 Canaiolo Nero is best known as the ubiquitous sidekick to Sangiovese. In small amounts, it improves, supports, and refines a way that never steals the spotlight from the more famous grape. With this bottling, Canaiolo Nero takes center stage. It tastes of refreshing red fruit, delicate flowers, and tangy balsamic. Its lighter body and tannins make it deliciously drinkable.
Product Reviews
Susan Larsen
(Apr 15, 2022 at 11:18 AM)
Wow. Just uncorked the Canaiolo Nero. It's absolutely wonderful! Many thanks to your entire team!!!!!
Barbara - Big Nut since 2008
(May 10, 2022 at 11:32 AM)
I just wanted to say the Canaiolo Nero is excellent. Enjoyed it without food. It was luscious; full of complex flavors. Please make some again.