Fumo e Terra Aglianico 3-pack
Club exclusive vertical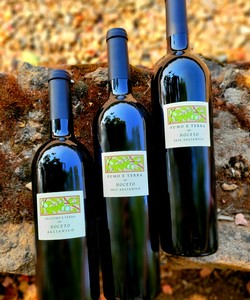 Try the first three vintages of our Fumo e Terra (100% Aglianico) in an exclusive (only 10 available!) 3-pack vertical.
Aglianico (ali-ahn-ico) - the ancient one. Maybe you've never heard of it - maybe you have seen it mentioned in recent articles in The New York Times, Wine Enthusiast, Wine Spectator, or Decanter? Maybe, just maybe, you have tasted it and fallen under its spell.
Aglianico hails from the sunny, volcanic soils of Southern Italy. Indeed, it is the King of the South. It often gets mentioned alongside Nebbiolo and Sangiovese as part of the powerful trimumvirate of Italian red wines. It is as unlike them as they are unlike each other.
Aglianico makes full-bodied, long-lived wines both unforgettable and powerful. Ours is no exception - vivid, layered, intense. This 3-pack offers a truly unique experience to taste our first three efforts side-by-side (or over consecutive nights). Drink them now or lay them down for years to come.
* Incredibly limited 3-pack *