Painting with Priscilla Truck
Painting with Priscilla - November 17, 1-3pm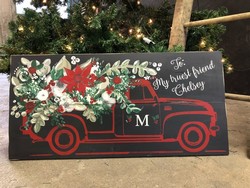 Its time to get ready for the holidays with a fun wood craft just in time for Christmas decorating. We will be painting an old truck with a Christmas tree in the back today! Gorgeous, whimsical, wine inspired masterpieces.
Join us on Sunday, November 17 for some holiday painting with Priscilla. All you do is show up - we supply your art materials and your first glass of wine.
This is the perfect way to spend a Sunday afternoon with friends or family.
All skill levels welcome - from finger-painters to Fauvists, from amateurs to Abstract Impressionists, from wannabes to watercolorists. Everyone is welcome! Cost is $32.
Priscilla Carpenter, the Creative Director of Heart & Soul Studio in Sutter Creek, will be back at Vino Noceto leading the group with her wit, wisdom, and patience.
Space is limited so get your event tickets now!
Contact info@noceto.com if you have any questions.
If you want to take a peek at some of Priscillas classes/work at her shop visit http://www.facebook.com/Heartnsoulstudio