Tiebreaker Challenge
Hillside v Dos Oakies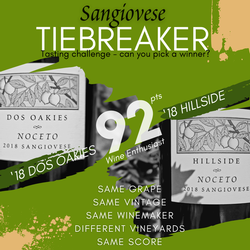 Two wines. Same grape. Same vintage. Same winemaker. Different vineyards. Same excellent score from Wine Enthusiast. 92pts.
This showdown features Dos Oakies versus Hillside. Dos Oakies is our reigning champion and the King of our vineyards. Hillside is our Olympian and has been getting better and better with each vintage. This year, the critics scored them both 92pts - "highly recommended."
We need a tiebreaker! You get to be the critic with this bundle. You'll get one bottle of each contender and a tasting sheet/scorecard to help you pick a winner.
2018 Dos Oakies Sangiovese, 750ml
2018 Hillside Sangiovese, 750ml
tasting sheet/scorecard
Save 10% when you buy the contenders in this Tiebreaker bundle.
Retail $83
Sale $75
Club members save more by logging in and picking the "CLUB" version.