Tiebreaker Challenge CLUB
Hillside v Dos Oakies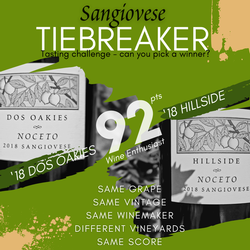 Two wines. Same grape. Same vintage. Same winemaker. Different vineyards. Same excellent score from Wine Enthusiast. 92pts.
This showdown features Dos Oakies versus Hillside. Dos Oakies is our reigning champion and the King of our vineyards. Hillside is our Olympian and has been getting better and better with each vintage. This year, the critics scored them both 92pts - "highly recommended."
We need a tiebreaker! You get to be the critic with this bundle. You'll get one bottle of each contender and a tasting sheet/scorecard to help you pick a winner.
2018 Dos Oakies Sangiovese: this Sangiovese comes from Il Poggione clones planted in our very first vineyard. Year after year, Dos Oakies reigns supreme. It impresses with the sheer force of its personality: noble, firm, classic.
2018 Hillside Sangiovese: grown from the Isole e Olena clone, Hillside is Sangiovese with an eye toward the future. Every vintage is an evolution of what came before. More perfect every year, Hillside is unafraid of bucking trends and traditions: captivating, mesmerizing, bold.
tasting sheet/scorecard: in addition to listing technical details for each wine, this scorecard gives you room to highlight classic Sangiovese tasting notes, create your own, and to score each wine.
Save 25+% when you buy the contenders in this Tiebreaker bundle.
Retail $83
Sale $60
Product Reviews