The History of the Noceto Doggie Diner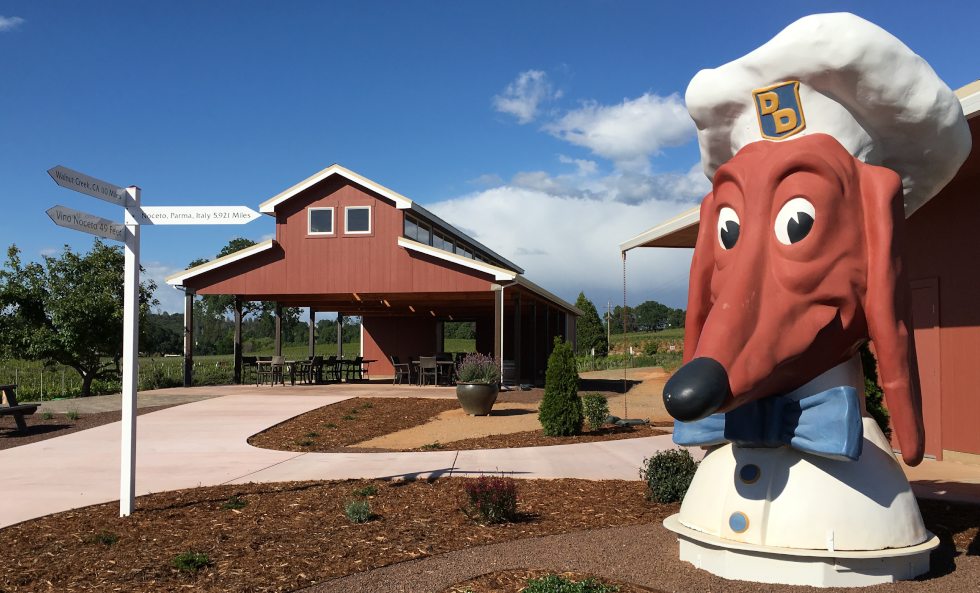 Doggie D is the King of Vino Noceto's yard. Double D first came to us back in 1985, when Suzy & Jim found themselves at a fundraising event for their children's nursery school. As they perused the Silent Auction offerings, they became intrigued with the Doggie Diner head. He had just undergone a major facelift and was looking quite spiffy. Having lots of space on the farm in the foothills (now the vineyard), Suzy & Jim offered $300 expecting to be easily outbid. Well, no one out-bid them, or even made a single bid, and they unexpectedly became the proud parents of a new Doggie.
Doggie D has been in the vineyard, and now outside the Tasting Room, ever since. Between greeting guests and guarding the vineyard, he has a very important job!
Note: Friendly dogs are welcome on-leash in our Tasting Room,. If there are any issues with crowding, we will happily serve those with canine companions on our outdoor patio. Only service dogs are guaranteed access to the inside of the tasting room.