Our Nutty Crew
---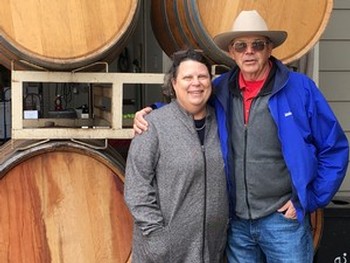 Suzy and Jim Gullett are the owners of Vino Noceto. They lived in Lafayette, CA for 19 years, where they raised their family until 1995. After 11 years of long-distance farming and winemaking, they moved to the Shenandoah Valley in order to drive the growth of their vineyard and winery operations. Their three children -- Randy, Bobby, and Lindy -- were each actively involved in the business through childhood, providing manual labor, office support and occasional wine deliveries. Randy lives in Alamo, CA with his wife, Mary, and their two children, Jonathan and Evan. Lindy recently returned from Manhattan where she got her Ph.D. in social psychology at NYU. Bobby lives in the Tahoe Area and spends his days relaxing, working, or skiing.
Suzy serves myriad roles at Noceto--Northern California wholesale sales force; tax & compliance department; wine club manager; retail (point-of-sale) and customer systems administrator; marketing director; and much more. As we grow, she has reluctantly begun to share some of her many roles and responsibilities. Following a 35 year career in the banking systems software industry, Jim has become an active member of the the local and regional community, serving as president of Family Winemakers of California, the Plymouth Foothills Rotary, and the Amador Business Council, as well as contributing his leadership skills to the Amador High School athletics programs, the Plymouth Farmers' Market, the Amador County Wine Grape Growers, and the Amador Council of Tourism. You'll often see him mingling with the customers -- either giving tours or standing behind the bar in the tasting room.
---
Meet our Staff
Vino Noceto's staff comprises a diverse set of talented individuals, each of whom has helped the winery establish itself as the premiere producer of Sangiovese and other Italian wine varietals in Amador County, the Sierra Foothills, California, and beyond. We would not be here today without the numerous contributions from our winery staff, farmers, grape growers and tasting room staff members.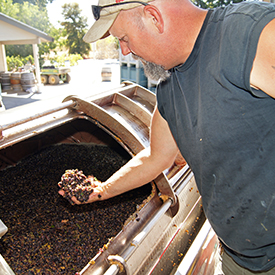 Rusty Folena
winemaker
rusty@noceto.com
Rusty Folena started his career in winemaking as a teenager, sweeping floors at Santino winery and pruning vines in the Original Grandpere Vineyard. Rusty joined Vino Noceto as Assistant Winemaker in early 1999. In 2001 he became Winemaker. Due to his early vineyard work and the direction of his tutors, Scott Harvey & Gordon Binz, Rusty understands and naturally pursues fruit-driven, varietally-accurate wines. This makes him ideal for Vino Noceto's style and approach to winemaking.
Lindy Gullett
director of sales
lindy@noceto.com
Lindy returned to Amador County after finishing her Ph.D. in social psychology at NYU. Lindy grew up in Vino Noceto's tasting room -- she has been answering phones since she was eight, and many of you may remember a precocious ten year old upselling you at the cash register during events. Now that she is back at the family business, Lindy is quickly getting back into the swing of things, and on most weekends you will find her working on the Tasting Room floor.
Bret Budrick
wholesale
bret@noceto.com
A progeny of one of the original founders of Chez Panisse restaturant in Berkeley, Bret Budrick is both passionate and knowledgeable about wine. Athough he works mainly in the wholesale market, he loves to work in the tasting room on weekends and can often be found pouring wine, sharing knowledge, and making lots of bad jokes. If you want to get Noceto wines in your store or restaurant, Bret is your guy!
---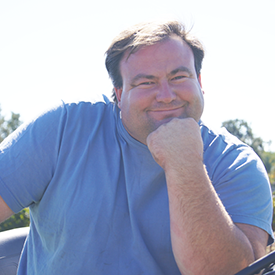 Dave Brown
vineyard manager
dave@noceto.com
Dave "Farmer" Brown can be seen daily, toiling in the vineyards as he preps each vine for the upcoming season. Dave also oversees the care and maintenance of our estate walnut orchard and olive groves. With consultation from winemaker Rusty, Dave executes much of the care that is required to produce a top quality Sangiovese.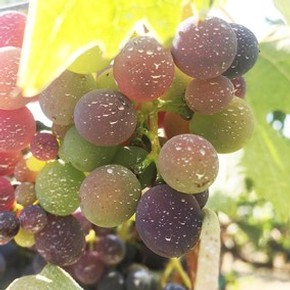 Kristin Crocker
administrative
kristin@noceto.com
One of Noceto's longest time crew members, Kristin is your lady when you want something done quick and right. Kristin has two sons, both Amador County-raised. When the Noceto crew found a family of kittens living on the property, Kristin was the one who tamed them and found them homes. Two of the friendliest kitties alive now live with Suzy and Jim, and one lives with Kristin.

Jenny Ginsburg
administrative
jenny@noceto.com
Like many members of the Noceto crew, Jenny was raised in Amador County. When she first joined Noceto, Jenny worked full-time in Tasting Room but recently transfered over to the administrative side of the business. Jenny is our resident register and sales expert and is the first to lend a helping hand to her coworkers and guests.
---

Tamara Richards
tasting room
tamara@noceto.com
Affectionately known as Momma T, Tamara returned to the Tasting Room after a many year absence. While she was away, Tamara taught preschool and loved it, but when she decided to return to the world of wine, she came straight back to Noceto! Momma T. is our weekday hostess with the mostess, and she can put a smile on anyone's face.

Trina Kovach
tasting room & winery
trina@noceto.com
The true jack of all trades, Trina works at the winery, in the tasting room, and at events. Trina's unflagging energy and friendly spirit endear her to both her coworkers and guests. Trina loves wine and is an up-and-coming star on team Noceto. Trina is about to take her level 1 Somm test, so wish her luck!
Occasional Nuts
tasting room & winery
vino@noceto.com
Vino Noceto has a variety of amazing staff who work in the tasting room, at the winery, and in the vineyard. Some have been with us for many years, like Stacy Gregerson, Rich Ferro, Rick Moehrke, Patty Bautista, Arlene Stohl, Pat Brown, Henry Arcangel, Peter Tefler, and Katie Butts. Others are newer, like Stacy Billesbach & Dawson Richards, but everyone is an important piece of our trail mix.
---
Meet the Dogs of Noceto
Doggie D is the King of Vino Noceto's yard. Double D first came to us back in 1985, when Suzy & Jim found themselves at a fundraising event for their children's nursery school. As they perused the Silent Auction offerings, they became intrigued with the Doggie Diner head. He had just undergone a major facelift and was looking quite spiffy. Having lots of space on the farm in the foothills (now the vineyard), Suzy & Jim offered $300 expecting to be easily outbid. Well, no one out-bid them, or even made a single bid, and they unexpectedly became the proud parents of a new Doggie.
Doggie D has been in the vineyard, and now outside the Tasting Room, ever since. Between greeting guests and guarding the vineyard, he has a very important job!
Note: Friendly dogs are welcome on-leash in all of our outdoor areas, but due to issues in the past, only service dogs are allowed inside the tasting room.
---

Heidi
Barrel Bung Chaser
In a group of fast dogs, Heidi is the fastest, especially when barrel bungs are flying through the air. Heidi mainly hangs out up at the winery with winemaker Rusty Folena, but when she makes her occasional visits down to the tasting room, she is full of kisses and excitement.

Dickson
Vineyard Guard
Named after Dickson Road, the small road that separates the two parcels on the Noceto Estate, Dickson is an energetic and friendly guard dog. Be cautious because he guards against strangers, but once he knows you, he is all cuddles. Dickson's favorite activities are chasing cars, eating, barking, and relaxing in the shade.

Poe
Resident Cuddler
Despite being named after Edgar Allan Poe, Poe the pup is all rainbows, sunshine, and cuddles. Originally raised as a city dog, Poe loves her new life in the country, especially when she gets to roll around in weeds and huges piles of dirt. Poe is a little shy with strangers, so she only visits the tasting room on weekdays.