Our Nutty Crew
---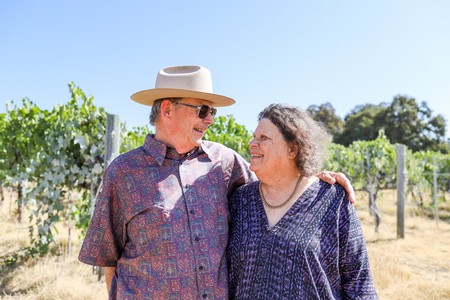 Suzy and Jim Gullett are the owners of Vino Noceto. They lived in Lafayette, CA for 19 years, where they raised their family until 1995. After 11 years of long-distance farming and winemaking, they moved to the Shenandoah Valley in order to drive the growth of their vineyard and winery operations. Their three children -- Randy, Bobby, and Lindy -- were each actively involved in the business through childhood, providing manual labor, office support and occasional wine deliveries. Randy lives in Alamo, CA with his wife, Mary, and their two children, Jonathan and Evan. Lindy recently returned from Manhattan where she got her Ph.D. in social psychology at NYU. Bobby lives in the Tahoe Area and spends his days relaxing, working, or skiing.
Suzy serves myriad roles at Noceto--Northern California wholesale sales force; tax & compliance department; wine club manager; retail (point-of-sale) and customer systems administrator; marketing director; and much more. As we grow, she has reluctantly begun to share some of her many roles and responsibilities. Following a 35 year career in the banking systems software industry, Jim has become an active member of the the local and regional community, serving as president of Family Winemakers of California, the Plymouth Foothills Rotary, and the Amador Business Council, as well as contributing his leadership skills to the Amador High School athletics programs, the Plymouth Farmers' Market, the Amador County Wine Grape Growers, and the Amador Council of Tourism. You'll often see him mingling with the customers -- either giving tours or standing behind the bar in the tasting room.
---
Meet our Staff
Vino Noceto's staff comprises a diverse set of talented individuals, each of whom has helped the winery establish itself as the premiere producer of Sangiovese and other Italian wine varietals in Amador County, the Sierra Foothills, California, and beyond. We would not be here today without the numerous contributions from our winery staff, farmers, grape growers and tasting room staff members. Vino Noceto has many wonderful part-time nuts who are not listed below, like Stacy Gregerson, Rich Ferro, Stacy Billesbach, Rick Moehrke, Patty Bautista, Arlene Stohl, Pat Brown, Henry Arcangel, Peter Tefler, Barbara Kropacek-Hall, Kelsey Radmilovic, and Meagan Monaghan.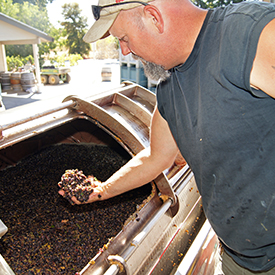 Rusty Folena
Winemaker
rusty@noceto.com
Rusty Folena started his career in winemaking as a teenager, sweeping floors at Santino winery and pruning vines in the Original Grandpere Vineyard. Rusty joined Vino Noceto as Assistant Winemaker in early 1999. In 2001 he became Winemaker. Due to his early vineyard work and the direction of his tutors, Scott Harvey & Gordon Binz, Rusty understands and naturally pursues fruit-driven, varietally-accurate wines. This makes him ideal for Vino Noceto's style and approach to winemaking.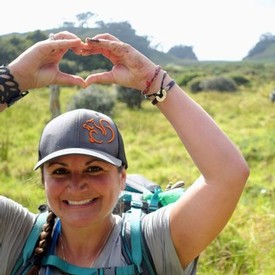 Kelsey Radmilovic
Events & Program Manager
kelsey@noceto.com
bio coming soon
.

Tyler Lee
Operations Manager
tyler@noceto.com
bio coming soon
---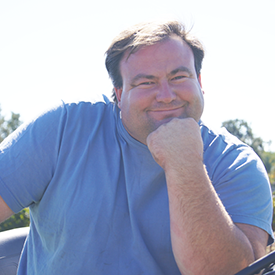 Dave Brown
Vineyard Manager
dave@noceto.com
Dave "Farmer" Brown can be seen daily, toiling in the vineyards as he preps each vine for the upcoming season. Dave also oversees the care and maintenance of our estate walnut orchard and olive groves. With consultation from winemaker Rusty, Dave executes much of the care that is required to produce a top quality Sangiovese.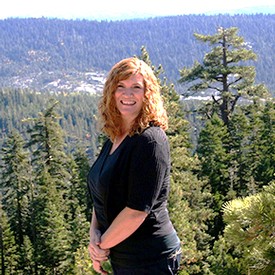 Kristin Crocker
Club / Sales Administrator
kristin@noceto.com
Kristin has been with Vino Noceto for almost a decade. Working mainly with proprietor Suzy Gullett at our administrative offices, Kristin is one of the administrative mavens who makes sure that your favorite wines make it to your doorstep. Kristin also helps over at the Tasting Room whenever we have a big event.

John Bautista
Weekday Tasting Room Host
john@noceto.com
bio coming soo
n
---

Rhys Tappero
Wine Educator / Wholesale
rhys@noceto.com
An Amador native, Rhys has been working in the Amador County wine industry since 2009. A true lover of wine, Rhys specializes in wine education, and when owner Jim Gullett isn't available, he is the go-to tour guide for Vino Noceto's famous Farm to Glass tours. Make sure to say hello next time you see him in the Tasting Room!

Rich Ferro
Handyman Extraordinaire
vino@noceto.com
He's the man who can do it all! We are so thankful to have Rich around. A former firefighter, Rich is ready for any task, from building shelves out of wine barrels to making sure that the property stays spotless. Thank you, Rich!!

Stacy Gregersen
Winemaking Consultant
stacy@noceto.com
Vino Noceto's first winemaker at our estate facility, Stacy Gregersen is still an integral part of the Noceto team. She visits the winery regulary to help with blending, crushing, and winemaking. We're even trying to convince to help us put on a blending session for our guests!
---
Meet the Dogs of Noceto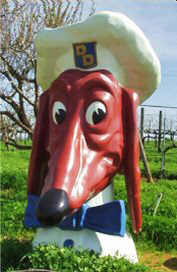 Doggie D is the King of Vino Noceto's yard.
Click here to learn more about the Doggie Diner.
Note: Friendly dogs are welcome on-leash in our Tasting Room,. If there are any issues with crowding, we will happily serve those with canine companions on our outdoor patio. Only service dogs are guaranteed access to the inside of the tasting room.
---

Heidi
Barrel Bung Chaser
In a group of fast dogs, Heidi is the fastest, especially when barrel bungs are flying through the air. Heidi mainly hangs out up at the winery with winemaker Rusty Folena, but when she makes her occasional visits down to the tasting room, she is full of kisses and excitement.

Dickson
Vineyard Guard
Named after Dickson Road, the small road that separates the two parcels on the Noceto Estate, Dickson is an energetic and friendly guard dog. Be cautious because he guards against strangers, but once he knows you, he is all cuddles. Dickson's favorite activities are chasing cars, eating, barking, and relaxing in the shade.

Poe
Resident Cuddler
Despite being named after Edgar Allan Poe, Poe the pup is all rainbows, sunshine, and cuddles. Originally raised as a city dog, Poe loves her new life in the country, especially when she gets to roll around in weeds and huge piles of dirt. Poe is a little shy with strangers, so she only visits the tasting room on weekdays.