Our Nutty Crew
---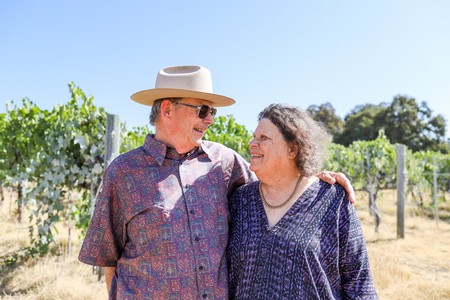 Suzy and Jim Gullett are the owners of Vino Noceto. They lived in Lafayette, CA for 19 years, where they raised their family until 1995. After 11 years of long-distance farming and winemaking, they moved to the Shenandoah Valley in order to drive the growth of their vineyard and winery operations. Their three children -- Randy, Bobby, and Lindy -- were each actively involved in the business through childhood, providing manual labor, office support and occasional wine deliveries. All three now live in the Bay Area -- Randy, wife Mary, and two sons in Alamo, Lindy in San Francisco, and Bobby in Walnut Creek (not far from Suzy's childhood home).
Suzy serves myriad roles at Noceto--Northern California wholesale sales force; tax & compliance department; wine club manager; retail (point-of-sale) and customer systems administrator; marketing director; and much more. As we grow, she has reluctantly begun to share some of her many roles and responsibilities. Following a 35 year career in the banking systems software industry, Jim has become an active member of the the local and regional community, serving as president of Family Winemakers of California, the Plymouth Foothills Rotary, and the Amador Business Council, as well as contributing his leadership skills to the Amador High School athletics programs, the Plymouth Farmers' Market, the Amador County Wine Grape Growers, and the Amador Council of Tourism. You'll often see him mingling with the customers -- either giving tours or standing behind the bar in the tasting room.
---
Meet our Staff
Vino Noceto's staff comprises a diverse set of talented individuals, each of whom has helped the winery establish itself as the premiere producer of Sangiovese and other Italian wine varietals in Amador County, the Sierra Foothills, California, and beyond. We would not be here today without the numerous contributions from our winery staff, farmers, grape growers and tasting room staff members. Vino Noceto has many wonderful part-time nuts who are not listed below, like Chadd & Melissa Beals, Patty Collett-Robb, Arlene Stohl, Pat Brown, Henry Arcangel, & Barbara Kropacek.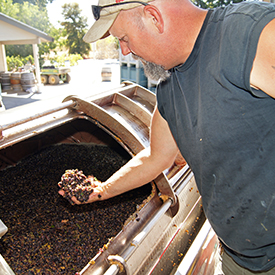 Rusty Folena
Winemaker
rusty@noceto.com
Rusty Folena started his career in winemaking as a teenager, sweeping floors at Santino winery and pruning vines in the Original Grandpere Vineyard. Rusty joined Vino Noceto as Assistant Winemaker in early 1999. In 2001 he became Winemaker. Due to his early vineyard work and the direction of his tutors, Scott Harvey & Gordon Binz, Rusty understands and naturally pursues fruit-driven, varietally-accurate wines. This makes him ideal for Vino Noceto's style and approach to winemaking.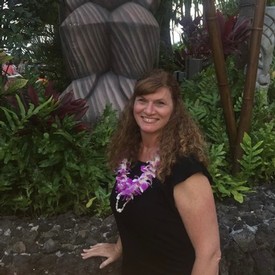 Kristin Crocker
Club & Office Manager
kcrocker@noceto.com
Kristin has been with Vino Noceto for over a decade.
Working with proprietor Suzy Gullett and Operations Manager Tyler Lee, Kristin takes on all sorts of administrative duties. She is one of the mavens who makes sure that your favorite wines make it to your doorstep. Kristin also serves as the backbone of all things "club." She also takes lots of beautiful photos!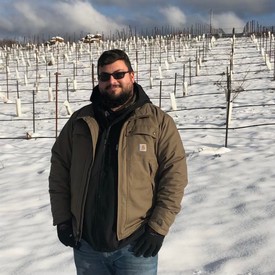 Patrik AJ Brown
Cellar Worker and Vineyard Hand

Patrik, a transplant from Mississippi who has found himself in Amador county, can be found working in our winery and vineyards. His work ranges from running sulfurs and alcohols in our lab to racking wine in the cellar to walking the vineyards fixing irrigation. Patrik started his wine career working in the cellar at the former Renwood Winery. After a brief stint of cooking at a local casino he found his way to Noceto as the "doer of things".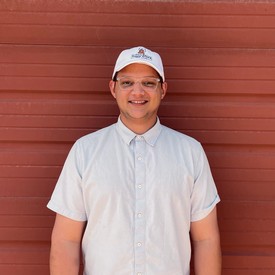 Garrett Linker
Tasting Room Manager
glinker@noceto.com
Garrett was born and raised in Amador county. A son of a local winemaker, Garrett has been working seasonal jobs at various Amador county wineries since age 12. Garrett and his family enjoy making wine at home. Garrett recalls one of his earliest after school chores was to punch down wine he and his family were making in their barn. You may recognize Garrett from his previous job making croissants at Andrae's Bakery. Garrett is enthusiastic about the wine hospitality business and learning about new wines.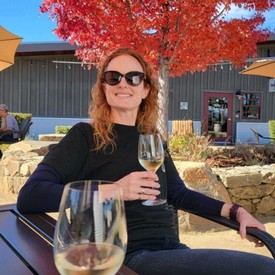 Jessica Herndon
Administrative Assistant
jherndon@noceto.com
Jessica comes from 21 years of banking experience, working a variety of positions! She is an active member of the Rotary Club of Plymouth-Foothills. Jessica started her career at Vino Noceto part-time and it has blossomed into a full-time opportunity. She has a deep love for the outdoors, all seasons, animals and plants. You might find her snowboarding, enjoying the lake or beaches, or deep and dirty in the adventures of being a backyard gardener. Her love for nature and people make the Vino Noceto family the right place.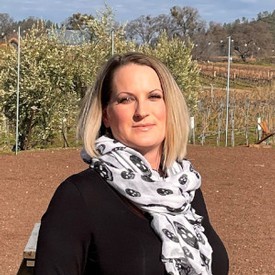 Stacy Billesbach
Wine Guide
Stacy started learning about wine at a younger age while working at a local restaurant /wine bar in Sutter Creek. She has always had an interest in wine and the vineyard itself and found that interest turned into love with experience and time. Now at Noceto for 5 years, Stacy wants nothing more than to continue the experience and learn as much as possible about wine and the wine making process.

Matt Munson
Shipping Master & TR Associate
Matthew, an Amador County native, is the youngest of the Vino Noceto workforce. While he may not be old enough to drink our wine, that doesn't stop him from showing up and accomplishing the most he can during each workday. He is currently studying to receive a degree in computer science. You can usually find him bussing tables or packing shipments at the winery!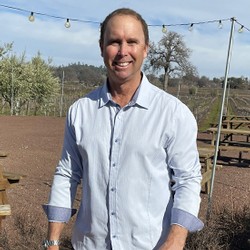 Mac Williamson
Wine Guide
Mac is a transplant from Encinitas, CA where he spent 25+ years in Market Research and Business Development working on the B2B and distribution side of the wine industry. Arriving in Amador County in 2018, Mac instantly fell in love with the terroir and Vino Noceto while enjoying the diverse selections offered by the numerous wineries in the valley. He spends his free time cycling the hills of the Shenandoah Valley and skiing the Sierras come winter, and trekking with his Golden Retriever Maci during the summer.

Larry Sapperstein
Director of Sales & Marketing
Larry brings over 36 years of experience in the Wine & Spirits industry. His career in the wine industry began in distribution with Wirtz Beverage Group in sales and then promoted to the General Manager of the fine wine division overseeing the sales team in Northern Nevada. The admiration for the wines at Vino Noceto began in 1998 beginning the relationship with the winery and the love of Sangiovese ever since.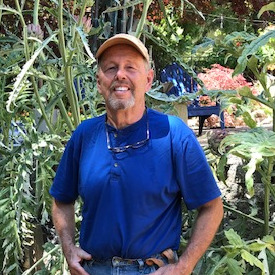 Rich Ferro
Handyman Extraordinaire
He's the man who can do it all! We are so thankful to have Rich around. A former firefighter, Rich is ready for any task, from building shelves out of wine barrels to making sure that the property stays spotless. Thank you, Rich!!
---
Meet the Dogs of Noceto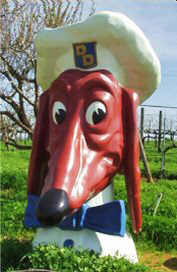 Doggie D is King of Vino Noceto's yard.
Click here to learn more about the Doggie Diner.
Note: Friendly dogs are welcome on-leash in our Tasting Room,. If there are any issues with crowding, we will happily serve those with canine companions on our outdoor patio. Only service dogs are guaranteed access to the inside of the tasting room.
---

Heidi
Vineyard Inspector
In a group of fast dogs, Heidi is the fastest, especially when barrel bungs are flying through the air. Heidi mainly hangs out up at the winery with winemaker Rusty Folena, but when she makes her occasional visits down to the tasting room, she is full of kisses and excitement.

Dickson
Vineyard Guard (RIP)
Named after Dickson Road, the small road that separates the two parcels on the Noceto Estate, Dickson was an energetic and friendly guard dog. Dickson's favorite activities were chasing cars, eating, barking, and relaxing in the shade.

Poe
Resident Cuddler
Despite being named after Edgar Allan Poe, Poe the pup is all rainbows, sunshine, and cuddles. Originally raised as a city dog, Poe loves her new life in the country, especially when she gets to roll around in weeds and huge piles of dirt. Poe is a little shy with strangers, so she only visits the tasting room on weekdays.
Sam
Barrel Bung Chaser
There is nothing more this pup loves more than chasing wine barrel bungs! Sam is mainly down at the winery with his sister Heidi, but makes his way up the stairs of the tasting room to visit the office crew for some lovin!