Who is this wine?
| | |
| --- | --- |
| Date: | Sun, Jun 30, 2019 |
| Time | 12:00 PM to 1:00 PM |
| Venue: | Vino Noceto |
| Contact: | Julia Ramage |
| Phone: | (209) 245-6556 x2 |
| Email: | julia@noceto.com |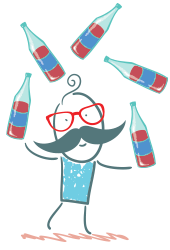 Notes of Maduro cigars and whispers of nectarine peel - a beam of linzer torte and singed iron?! Sometimes winespeak gets so out of hand that it can be intimidating to really try and describe the wine in our glass or our wine preferences. Wine is about pleasure, and there isn't anything pleasurable about pompous wine descriptors, point scores, or medal counts.
Join Tyler, our Operations Manager, for a light, fun, all-nonsense, but still rather enlightening afternoon of talking about wine. We will sip through some of Vino Noceto's delicous wines and discuss them as they have never been discussed - is this wine James Bond or John Wayne? Is it Audrey Hepburn or Marilyn Monroe? Who is this wine?
Amateurs and wine geeks are all welcome. This might be the most refreshing wine tasting you've been to - bring friends.
Cost: $5/per Person. Free for club members