Andy's One Pot Short Ribs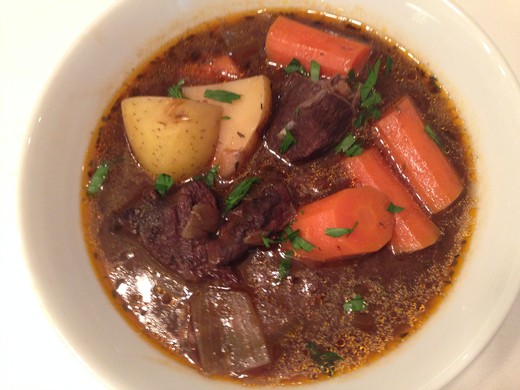 Recipe Date:
June 8, 2016
Measurements:
Imperial (US)
Ingredients
4 lbs beef shortribs
2 tbsps ground black pepper
3 tbsps olive oil
8 cloves of garlic
3 cups sliced carrots
3 cups sliced onions
1/2 cup chopped parsley
8 cloves
2 cups Noceto Sangiovese
1 29 ounce can of chopped or diced tomatoes
1/4 cup red wine vinegar
2 tsps salt
1 dash of cayenne pepper
Directions
STEP 1 - The Beef
4 lbs beef shortribs
Freshly ground pepper
Olive oil
Sprinkle the ribs generously with freshly ground pepper, then sear all over in the olive oil in a large pot or Dutch oven. Don't overcrowd. Remove each batch to a platter and hold aside. When done, discard the oil and fat in the pot (you don't need it for flavor, and it saves a lot of calories). Don't wash the pot - you'll need it in a few minutes.
STEP 2 - The Chopping
8 (or preferably more) cloves of garlic, chopped
3 cups sliced carrots
3 cups sliced onions
1/2 cup chopped parsley
8 whole cloves
Chop or slice the veggies and put each on a paper plate -- recycle the paper plates after 'Step 3.'
STEP 3 - The Layering
Put half the ribs into one layer inside your cooking pot. Cover with half of your garlic, carrots, onions, parsley and cloves. Repeat with your remaining ingredients. If you've been following instructions correctly, you should now have no ingredients left!
STEP 4 - The Sauce
2 cups (or more) Noceto Sangiovese
1 large can (approx. 29 ounces) chopped or diced tomatoes, including the juice
1/4 cup red wine vinegar (do not increase!)
1/4 to 1/2 cup brown sugar
2 teaspoons salt
A dash of cayenne pepper
Mix all the sauce ingredients in a large bowl. Pour over ribs. Bring to a boil. Cover and simmer for about two hours, until the meat is falling off the bone.
STEP 5 - The Waiting
While the ribs are simmering, enjoy the rest of your bottle of Noceto Sangiovese, and be sure to open another to serve with the meal. Salute!
Chef's Notes
(1) There is always leftover sauce. It does very well served over pasta. However, I tend to freeze the leftover sauce. Then, when I want an easy-to-prepare meal, I just buy some ribs, complete step 1, then pour the sauce over it. The ribs still need to cook for two hours, but the prep time is cut down to nothing.
(2) This dish reheats wonderfully, so you can absolutely make it a day or two in advance, and simply warm up and serve.
(3) This recipe is very forgiving. A little more or less of anything is usually fine, but DO NOT increase the vinegar -- the original recipe called for slightly more and always came out too 'tart.' Also, if you're feeding a crowd (this recipe currently feeds 5 to 6 people), you can increase all ingredients by 1/2, and in step 3, increase the number of 'rib layers' from 2 to 3.
- Andy Wasserman, Big Nut & Frivolo Fanatic