The Corradetti's Chocolate Grappa Cake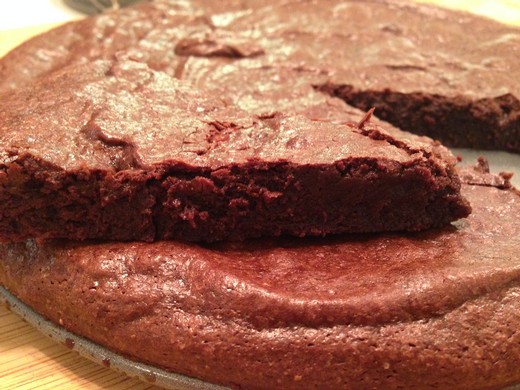 Recipe Date:
June 14, 2016
Measurements:
Imperial (US)
A semi-sweet chocolate cake with Grappa, topped with powdered sugar and whipped cream!
Ingredients
3/4 cup Flour, sifted
9 ozs bitersweet chocolate, chopped
1 stick unsalted butter, cut into pieces
6 large eggs
1/2 cup granulated sugar
1/3 cup Vino Noceto Grappa
1 tsp vanilla
1/3 cup pine nuts, toasted
Directions
Preheat oven to 350 degrees F. Butter a 9-inch springform pan and line bottom with a round of wax paper. Butter paper and dust pan with flour.
In a metal bowl set over a saucepan of barely simmering water, melt chocolate and butter, stirring occasionally. When melted, remove bowl from heat and let cool for 5 minutes.
In a large bowl, whisk together egg yolks, sugar, Grappa, and vanilla, adding chocolate mixture a spoonful at a time, stirring well after each addition. Add flour, stirring until batter is just combined. Fold in pine nuts.
In another large bowl with an electric mixer, beat whites with a pinch of salt until they just hold soft peaks. Stir a large spoonful of whites into the batter to lighten. Gently, but thoroughly, fold in the remaining egg whites. Turn batter into the springform and smooth top.
Bake in the middle of the oven, for 40 to 50 minutes, until puffed and small cracks appear on top (center will be slightly moist). Cool cake in the pan for 10 minutes. Remove springform sides, bottom of pan, and wax paper and allow cake to cool completely on a rack. Dust cake lightly with confectioners' sugar and serve with whipped cream. Accompany with a shot of Grappa to drink!