Lindy's Thai Red Curry with Chicken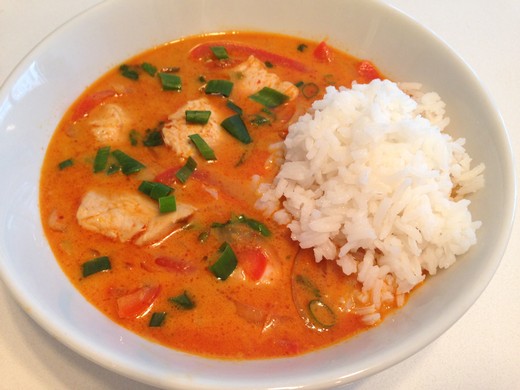 Recipe Date:
August 2, 2016
Measurements:
Imperial (US)
This flavorful and mildly spicy Thai red curry would be great with Noceto's Pinot Grigio, off-dry Riesling from Austria, Germany, or Michigan. If you don't like Riesling, try an off-dry Gewurztraminer, a dry Rose from France, or a grassy New Zealand Sauvignon Blanc. Thai red curry also pairs well with a light colored fruity Belgian ale or a cocktail with citrus and mint or basil.
Ingredients
3/4 cup jasmine rice
1 tbsp salt
1 13.5 ounce can of unsweetened coconut milk
1 tbsp canola oil
2 cloves of garlic
1 stalk of lemongrass
2 tbsps fresh ginger
1 lime
1 large red bell pepper
1 scallion (green onion)
1 medium onion
10 sprigs of cilantro
2 1/2 tbsps red curry paste (I prefer Mae Ploy)
1 tbsp brown sugar
1/2 lb skinless and boneless chicken breast
Directions
Cook Rice. Rinse 3/4 cup of jasmine rice with water. Put rice and 1 1/2 cups of water in a medium pot over high heat. Add 2 small pinches of salt. Cover pot and bring to a boil and then reduce heat to low and simmer for 15-20 minutes or until there is no longer water at the bottom of the pot. Remove from heat but leave covered.
Prepare Ingredients. While the rice cooks, wash and dry produce. Cut one red pepper into thin strips that are approximately 1 inch long. Throw out the white pith and seeds. Peel one small onion and thinly slice. Cut off the root of one scallion and then thinly slice the scallion into small rounds. Separate the white bottoms from the green tops. Zest one lime, avoiding the white pith, until you have approximately 2 teaspoons of zest. Quarter and deseed the lime. Peel and then mince 2 T of ginger. Peel and then mince 2 garlic cloves. Remove and discard the top half of one stalk of lemongrass. Remove the tough green outer layer from the bottom half, revealing a white pliable core. Mince the core. Remove leaves from 10 stems of cilantro. Discard the stems.
Develop Flavors. Add 1 T of canola oil to a medium pot or wok. Heat on medium-high until hot. Add the minced garlic, ginger, and lemongrass as well as the white parts of the scallion. If the oil is hot enough, the garlic, ginger, and lemongrass will dance in the oil. Cook for 1 minute or until fragrant, stirring frequently. Add the bell pepper, onion, and a pinch of salt. Cook another minute, stirring frequently. Add 2 1/2 Tablespoons of red curry paste. Cook 2 more minutes, stirring frequently.
Add Coconut Milk. Add the coconut milk, lime zest, 1 cup of water, 1 Tablespoon of brown sugar, and a pinch of salt. Reduce heat to medium-low and cook for 3 minutes, stirring occasionally.
Cook Shrimp. While the curry cooks, thinly slice 1/2 lb of chicken breasts (about 2 small or 1 large breast) against the grain. Add the chicken to the curry base. Cook for 9-10 minutes or until the chicken is cooked through, stirring occasionally. Remove from heat. Add half of the cilantro and two wedges of lime juice. Stir.
Plate Dish. Portion the curry into two bowls. Place a scoop of rice on top of the curry. Garnish with the green parts of the scallions and the rest of the cilantro.
Notes: To double this dish, simply double all ingredients. Add more paste to achieve a spicier curry. I do not suggest exceeding 3 1/2 Tablespoons. If you do not have a zester for the lime, peel off the outside of the lime, avoiding the white pith. Then mince the lime peel.