Lindy's Rosemary Prime Rib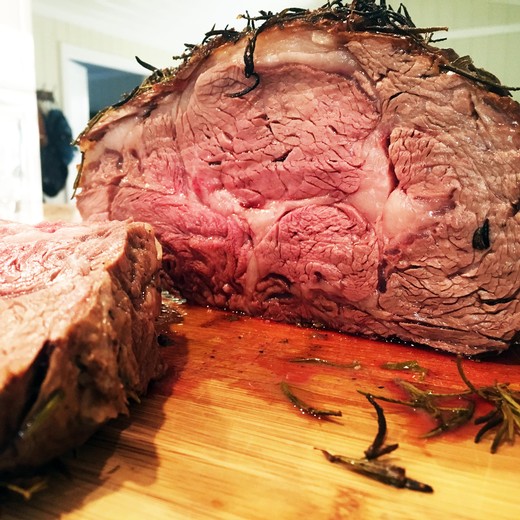 Recipe Date:
July 5, 2016
Measurements:
Imperial (US)
This delicious prime rib is coated in rosemary and butter. It's great for a busy day and takes less than 15 minutes of preparation. I love it with potatoes. -Lindy
Ingredients
4 lbs Bone in Beef Rib Roast (one 4lb roast)
1/2 cup softened butter
10 sprigs of rosemary
3 tbsps Salt
1 tbsp Crushed Black Pepper
1 14.5 ounce can of beef broth
1 cup water
Directions
Preheat Oven to 500 degrees farenheit.
Wash 8-10 sprigs of rosemary and remove leaves from the stem.
Liberally salt and pepper all sides of the rib roast and rub the seasoning in.
Mix rosemary leaves with 1/2 cup of softened butter, and rub the rosemary butter all over the rib roast. Make sure to coat the entire roast, especially over the fat cap.
Place the rib roast in a roasting pan with the bones down and the fat cap facing up.
Pour one cup of water and one 14.5 ounce can of beef broth into the bottom of the pan.
Bake for 30 minutes at 500 degrees. Reduce the temperature to 325 degrees farenheit, and cook for an additional 90-120 minutes. For medium to medium-rare, remove the meat when a thermometer inserted into the middle reads 135-140 degrees farenheit.
Let the meat sit for 10 minutes before serving. While the meat rests, pour the juice and broth in the bottom of the roasting pan into a measuring cup. You will notice a large amount of fat and butter at the top. If desired, remove the fat and butter by slowly pouring it out of the measuring cup until only the juice and broth remains.