Sangiovese Lamb Meatballs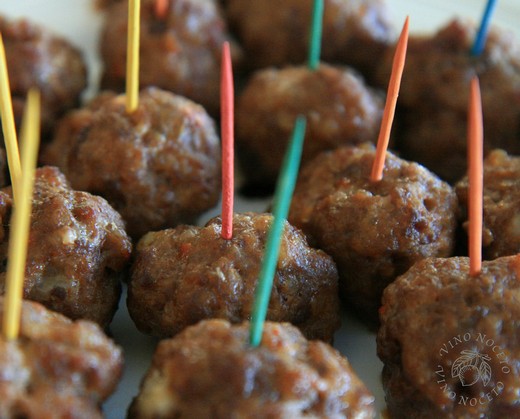 Recipe Date:
June 28, 2016
Measurements:
Imperial (US)
Yum! Lamb meatballs cooked in Sangiovese makes the perfect meal or ready to add your spaghetti or lasagna.
Ingredients
1 cup red onion
1 stalk celery w/ leaves
1 cup mushroom pieces-used Portobello mushroom stems
2 tbsps Noceto extra virgin olive oil
Cinnamon
Basil
Garlic
Pepper
Rosemary-chopped fine or crushed with mortar and pestle
Salt
Bay Leaf
1 large Japanese Eggplant – peeled, cut in half lengthwise and sliced thinly
1 can organic tomatoes or fresh tomatoes
1 cup NOCETO Sangiovese
Directions
Chop onion, celery & mushroom fine in food processor. In saucepan, warm NOCETO Olive Oil on low. Sauté onion, mushroom and celery on medium low until tender. Do not brown or dry.
Add seasonings, tomatoes and eggplant. Bring to a slow boil. Add wine and simmer slowly for flavors to blend – approximately 15 minutes. Add meatballs and any liquid. Simmer until meatballs are warm.
Cook your favorite pasta noodles al dente. Serve with Fresh Parmesan, Salad and your favorite NOCETO Sangiovese.