News
Take a sneak peek inside Noceto with interviews, reviews of the vineyard, and more! Want to hear what everyone else is saying about Noceto? Check out our Press page.
---

Are you looking for the perfect summer beverage? Well, look no further because "Frivolo in a Can" is almost here! If you haven't had the pleasure of trying it, Frivolo is our slightly sparkling Moscato Bianco that is perfect for sunny days or days that just need a dose of sunshine.
After almost 20 years of making Frivolo in a bottle, we're finally releasing Frivolo in a sunbathing, camping, tailgating, and boating friendly format. Say hello to Frivolo in a Can! It's slightly spritzy. It's slightly sweet. It's super refreshing.
As many of you know, our fans were a big part of designing our new can.
Back in April 2016 (a year ago!), we posted our first set of mock-ups on Facebook to get your feedback. Out of the six designs, one blew the others out of the water with 15 more likes and 27 more comments than the next most popular design.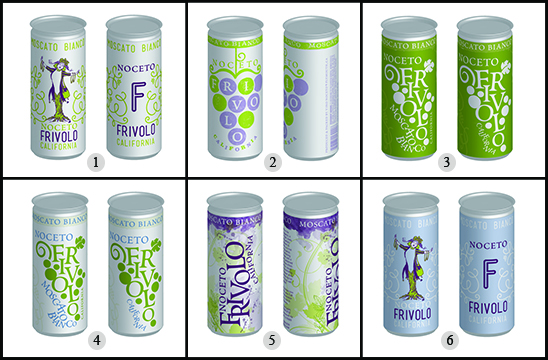 Of the original 6 designs, can you tell which one was the big winner? Suzy Gullett loved can number 2, but the can with the vertical text and dripping wine juice (number five) came out ahead with the fans!
Our fans had declared a winner, but we weren't done yet. We told label designer Adam Sullivan of Balzac Marketing what we loved about the winning design – like the vertical text and the wine juice running over the can - and what we wanted to change. We wanted a design that was light and frivolous but also modern and fresh. We wanted happiness and sunshine.
Adam took our feedback and knocked it out of the park. His next design was a clear winner…but we couldn't pick a color, so we posted our favorite colors on Facebook, and let our fans pick!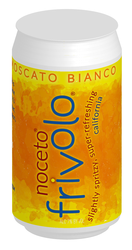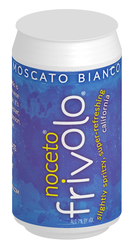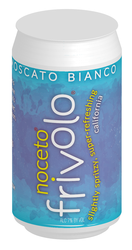 In the battle of colors, the yellow and gold sunshine in a can narrowly edged out its cooler-toned competitors.
It was a close battle, but the fans chose sunshine in a can in yellow and gold. With our design finally ready, we submitted it to the TTB for approval, and a week later, we ordered our cans. This March, we brought in a mobile canning line, and after a few hours of filling, packing, and stacking, Frivolo was officially canned!
Frivolo in a Can will be making its debut on April 9th, the same day as our sold out Adult Easter Egg Hunt. To welcome these little cans of sunshine, we will have a DJ, a waffle truck, a caricature artist, LuLaRoe, Stella & Dot, and more. Stop by anytime between 11 a.m. and 4 p.m. (Please note that the 11am Easter egg hunt is sold out, but the Frivolo in a Can release is still open to the public.)
Frivolo in a Can is available in a four-pack for $18, the same price as a bottle of Frivolo. Each 4-pack is the equivalent of one bottle of wine. The cans are perfect for BBQ's, pool parties, music festivals, sporting events, boating trips, or anywhere you can bring a cooler. We only made 200 cases, so get some before it sells out! Club members can pre-order cans by calling 209.245.6556 x4 or emailing wineclub@noceto.com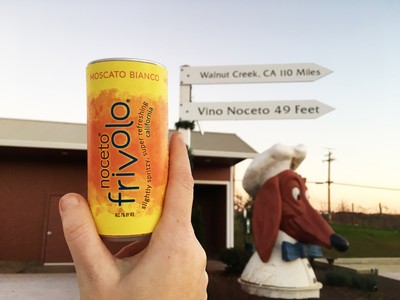 Doesn't it look delicious! The staff tried a pack, and they think that the can is even better than the bottle - fresher, lighter, & spritzier!