2010 AX-1 Sangiovese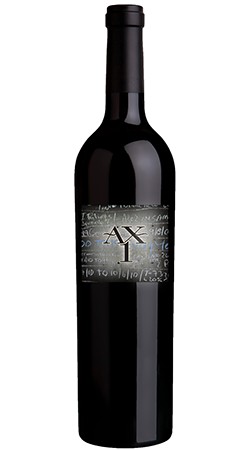 A super-premium, Brunello-style Sangiovese, Noceto's AX-1 is the result of many years of experimentation to produce a California Sangiovese to rival the best Brunellos and Riserva Sangioveses from Italy. Gentle treatment has been the focus of the entire winemaking process -- from a gentle crushing of the grapes and a 10-14 day fermentation in new French oak puncheons to preserve the bright varietal flavors, to 36 months of aging in the same puncheon to soften youthful tannins and gently age the wine, and finally an additional 2-1/2 years of bottle aging. The result is a fruit-packed, full-flavored, complex wine with a lingering finish, exhibiting flavors of dark plum and cherry, leather, earth, and mushroom. It should pair well with rich dishes as beef stroganoff, cassoulet, Moroccan lamb stew, or steak au poivre.
Product Reviews
Jamesvap
(Apr 23, 2017 at 7:50 AM)
Sleep apnea is a very difficult thing to live with, both for the sufferer and for people living and sleep with him or her. If you fit into either of these categories, then you know just how frustrating it can be. Read through the tips found in this article to learn the best way to survive this problem! Strengthen your throat and jaw with some basic exercises. Developing these muscles should reduce the symptoms of sleep apnea. You can exercise your throat and jaw by simply pulling your tongue or practicing some very simple breathing exercises. The goal is to train you to breathe differently and hopefully make your sleep apnea disappear. If you are over weight, going on a diet can reduce your sleep apnea, or in rare cases, eliminate it completely. Maintaining a healthy weight can help you breathe easier, so losing weight and maintaining a healthy weight when you have trouble breathing is an obvious step in treating your sleep apnea. Avoid drinking alcohol to excess. Your muscles are relaxed by drinking alcohol. You may want to feel more relaxed, but it can exacerbate your apnea. When your throat muscles relax, your airway narrows and causes sleep apnea. If you're not going to give up alcohol, then just don't do it right before bedtime. People who do not have a partner sleeping with them may not know they suffer from sleep apnea. If you wake up with a dry or sore mouth, wake up out of breath, have morning headaches, insomnia, and/or go to the bathroom frequently during the night, you may have sleep apnea and should talk to a doctor. Attempt side sleeping. Many people with sleep apnea are used to sleeping on their backs. When you sleep on your back it can cause your throat and mouth tissues to impede your airways. Instead, you should sleep on your side and that can help your breathe much better. Put a pillow on your side if you always find yourself moving around during sleep. Sleep apnea does not go away on its own; patients need treatment. Some treatments work better for different people. If you lose weight you will help your sleep apnea, but this is not always the cause. CPAP machines are considered non-invasive, and many people use them successfully. Others prefer surgery to relieve their sleep apnea. Choose whichever method you think will work for you so you may begin to live a happy and comfortable life. Avoid any type of drugs or alcohol if you are experiencing any type of sleep apnea. Drugs and alcohol will slow down your respiratory system, and that is known to be one of the causes of sleep apnea. If you are struggling with this issue, try to get some professional help to overcome these addictions. If simple changes in your lifestyle, such as regular sleep hours and losing weight, have not eliminated your sleep apnea episodes, it is time to consult with a sleep specialist. The specific causes of your sleep apnea can be evaluated, and an individual treatment plan can be designed for you. There are several things that can trigger sleep apnea and there are many treatments. Since you have read this article, you have increased your knowledge about dealing with your sleep apnea. Pass this knowledge on to others whose lives may be affected by this condition. A great night of sleep is still very possible for you. viagrasansordonnancefr.com
Thomas Bevins
(Jan 14, 2018 at 10:45 AM)
This is a delightful wine that is well described in the paragraph above: " a fruit-packed, full-flavored, complex wine". I think a lot of fruit-forward wines lack a "rich" or "complex" flavor. Disclaimer - I am partial to fruit forward wines, and shy away from astringent wines. However, I have found that richer, more complex wines tend more toward the savory end of the spectrum. Thanks to my son, I have had the opportunity to enjoy a few "tasting" trips to Amador and Napa. We are very fond of Vino Noceto, On a recent trip I bought a bottle of AX-1 and I have decided it is my favorite wine. Fruit-forward, AND complex/rich. I am an educator, and have long had a negative opinion of "grade inflation". I find it difficult to give a 100% grade because that to me means that it could not be better, That is one reason why I rated this wine a "4". Also, I am very far from being an authority on wine - so I am shy about proclaiming to know that this is a 5 out of 5. To me it is a "5", but for public proclamation I will only claim a 4, but go on to say that I have found no wine I like more. If the only other rating for this wine was not a 1 out of 5 I would not have even given this review, but I could not hold back when I saw the first review. (Odd that the rating was 1 out of 5, but the text was all about sleep apnea and not this wine). This is a very good wine.