Fall 2022 Club Release Party
Club Members Only! Sat, Sep 17, 11:30am - 4:00pm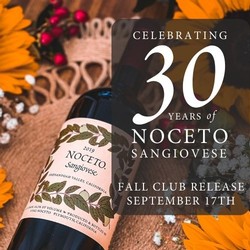 The reservation deadline has passed. Please contact Kim at 209.245.6556 for more info.
Two tickets/membership are free! Reserve your free tickets with this item.
Join us on Saturday, September 17th for the release of our 2019 Sangiovese Originale, marking 30 vintages of our iconic flagship wine. Special tastings of library Originale selections will be featured in celebration of this momentous occasion. Lunch will be served from 11:30am until 3:30 (or until grub lasts). Please email us at events@noceto.com to let us know if you have any gluten-free folks in your party or if you have any other dietary restrictions. We look forward to seeing you then!
Contact us for more tickets or info.
Product Reviews