Riserva Library Three Pack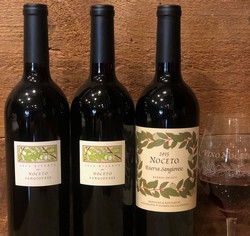 Three bottles of Riserva from our cellar selection. All displaying a medium-body, with complexity in aroma, a fine-textured mouthfeel and fascinating layers of spice, herb, mineral and berry notes. It superbly displays the variety's intricate palette of flavors. Drink now or cellar for a later date.
2012 Riserva Sangiovese | Gold, Chairman's Best of Class Sweepstakes Nominee - Long Beach Grand Cru​
2014 Riserva Sangiovese | 91pts, 2 puffs, Good Value - Connoisseur's Guide, Gold - CA State Fair & SF Chronicle
2015 Riserva Sangiovese | 92pts - Wine Enthusiast, Editors' Choice
Get $26 Off
Club members save even more by signing in! Click here to login.
Product Reviews