Tour of Italy Trio CLUB
Italian style rooted in Amador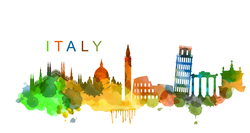 Taste Italy with us! Forget your passport and grab your glass. Our tasting trip begins with Barbera in the foothills of the Alps, winds its way to the picturesque Tuscan countryside with Sangiovese, and ends in the bright sunshine and blue waters of Basilicata with Aglianico.
No country on earth has more vinous diversity than Italy. Well over 300 grapes are grown on the Italian peninsula (some estimates put that figure much, much higher). We are fortunate that a few of them grow so exceptionally well in Amador's soil.
This trio includes:
2016 Linsteadt Barbera: (taste Piedmont) rich, and racy, red- and black- fruit with plenty of vibrant acidity with herbal, earthy undertones. More quintessentially "old world" than most Barberas from the foothills.
2017 Riserva Sangiovese: (taste Tuscany) a bolder take on our "originale" - the Riserva is created from carefully selected barrels of our Sangiovese that have stood out to Rusty. This is then aged longer in puncheons. Decant for 30 minutes-1 hour.
2016 Fumo e Terra Aglianico: (taste Basilicata) this is possibly Amador's "next best thing" - sun-loving and drought-tolerant, Aglianico produces massive wines of power, poise, and longevity.
Add just 9 more bottles to qualify for $5/case shipping!
Product Reviews
David Stewart
(Feb 20, 2021 at 4:12 PM)
Love the wine and Tyler and Staff here.